In this article, you will get the list of best hotels in Germany. Germany attracts every year tens of millions of visitors. The World Tourist Organization ranks it as the seventh most visited country in the world in 2018. Germany is what you want when you are a football fan or a business innovator. And when you like large forests or big fun cities.
I have compiled a list of ten good hotels in Germany, some are luxurious. Here you can choose from an overwhelming offer of hotels. 
List of hotels in Germany
So, let us began the hunt for the list of best hotels in Germany.
Park Hotel Post is a 4-star hotel in Freiburg. A stately downtown building host this hotel. Freiburg Breisgau central train station and Freiburg Minster cathedral are within walking distance. You will get free WiFi here. You can find a double room for around 130 euros per night.
Located in Freiburg in Breisgau, Germany
You can find this boutique hotel on a tree-lined shopping street in the town center in Duderstadt. A trendy hotel within a 17th-century building that is 11 km from Seeburger Lake. You can have a free breakfast and free WiFi. You can find a double room for around 130 euros per night.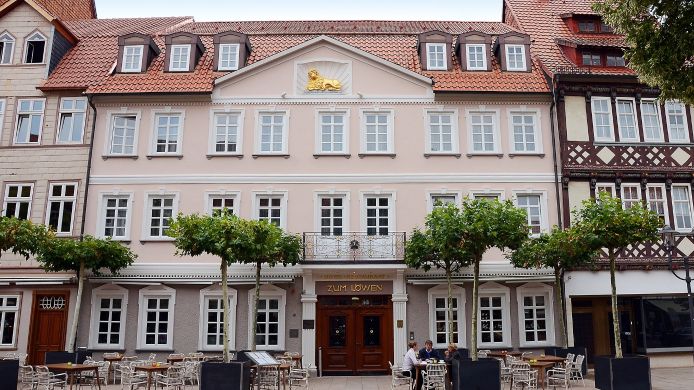 Located in Duderstadt, Germany
The Bayerischer Hof's is a 5-Star hotel in Munich. The hotel has 5 gourmet restaurants, 6 bars, and a blue spa with gyming facilities and a rooftop pool. You will get a complimentary breakfast with free Wifi and free parking slot. The hotel is couple friendly and you can bring your pets with you. It is on a great location and at walking distance from sights such as the Bavarian State Opera and the Hofbräuhaus Beer Hall. All the rooms are air-conditioned and cost 420 euros or more.
Located in central Munich, Germany
Do you want to spend your holidays as a King or a Queen or a Prince or a Princess? Then Louis C. Jacob is your place. You can get the feel of Disney princess since the hotel lies in front of River Elbe. Its wooden flooring and hand made beautiful rugs make this hotel even more stunning. This hotel is more than 200 years old and all rooms have extra-long beds and a Nespresso coffee machine. This is a 5-star hotel which is in Hamburg city. Rental bicycles are available. The most beautiful thing is dinner at the terrace where you can enjoy the beauty of the river and its nature. Double rooms start from 200 euros.

The Vier Jahreszeiten Kempinski München is in the center of Munich. It is at a walkable distance from Marienplatz Square. The 5-star hotel has a spa and pool facility. All rooms are air-conditioned with stylish decorations. There are many places to visit around such as the scenic Hofgarten Park is a 5-minute walk away. Rooms start from 300 euros per night. 
Located in central Munich, Germany
Mandarin Oriental is famous for its Matsuhisa and luxurious rooms. This 5-star hotel is a 5-minute walk from Marienplatz Square, in Munich. Rooms are spacious and all have Samsung entertainment systems. Rooms also have superb toiletries with marble bathrooms and free mini-bar.
All guests receive a warm welcome and they can use the terrace which gives the 360-degree view of the city.
You must try Matsuhisa. It is famous Japanese-Peruvian cuisine, the creation of Nobu Matsuhisa, a famous chef. You can find rooms at this hotel from 420 euros up.
Located in Munich, Germany
This hotel lies at a very beautiful location on the banks of Lake Tegernsee. Althoff Seehotel Überfahrt is a 5-star hotel. It also has an exclusive spa and a 3-star restaurant. Also, other features given by them are free WiFi TV with SKY channels and a DVD player. From the top of the roof, you cant get the great views of the Bavarian Alpine foothills.
All the rooms have a spacious balcony or terrace. They have a marble bathroom with all the complimentary Penhaligons toiletries.
There are Spa, indoor and outdoor pool facility available at Althoff Seehotel Überfahrt. You can also enjoy the fireplace and library. The hotel is also famous for relaxing massages and beauty treatments. You can enjoy meals at the 3-star Restaurant Überfahrt. You can find international cuisine at the hotel's Italian restaurant, Il Barcaiolo. The rooms cost at least 240 euros.  
Located in Rottach-Egern, Germany
This beautiful hotel is like a villa. Hotel Der Kleine Prinz is a 4-star hotel.
The hotel is a 5-minute walk away from the Kurpark Spa Gardens and the Kurhaus Casino. The bathrooms display royal designs. All the rooms have beautiful decorations and have screen TVs and a mini-bar.
You can enjoy the buffet breakfast every morning. This is a great place for tea lovers as you can enjoy an afternoon high tea which will come to your room. You can also enjoy the fireplace with a book from the hotel's library. You can find rooms for as little as 150 euros.
Located in Baden-Baden, Germany
This 5-star hotel gives you a free spa with a free indoor pool and fine international cuisine. You will also get a private boat jetty. Sofitel Hamburg is 150 m from the Hamburg Stock Exchange.
All the rooms are well designed and have a flat-screen TV and a marble bathroom.
The specialty of Sofitel Hamburg is its Seagull Spa. It has an ice fountain and a modern gym. You can find rooms for 150 euros per night.
Located in central Hamburg, Germany
The Belle Epoque has a stunning infrastructure and is a 4-star hotel. It has a beautiful garden and it decors the Baden-Baden center. Free WiFi is available throughout the property. It has an antique touch since its foundation was in 1874. All the rooms of Belle Epoque have all modern amenities. Here you can find rooms for 190 euros per night.
Located in Baden-Baden Germany 
---
All the above information and more is at The Luxury Travel Expert or in this article from the Telegraph. That is all, for now, enjoy your travel!!