'Denmark', is a good and easy country for travelers. The country has rolling hills, lakes and jagged coastlines; it has beautiful landscapes like the white cliffs of Mons Klint. Also, the best thing about Denmark is that it is clean and it cares about the environment. Some visitors say that the country has an early medieval Viking charm in it. They also say that whoever comes to visit once wants to go back again soon. Foreigners who happen to stay longer also feel that locals are very friendly and helpful. If you are on a lavish and high budget trip you can manage to stay in Copenhagen capital of Denmark, for several days. But, most tourists spend only a few days in Copenhagen as the high costs of Scandinavia force them to move on. So, if you are searching for a guide that can help you in saving a bit of money and make your trip more affordable and maybe longer, you have to read this!
Two big things you can do to fully enjoy Denmark
There are many places to see in the countryside (especially Jutland). These places are less expensive than the main cities, like

Copenhagen.

Use homestays to avoid the extra bills and to get a better feeling of the people. You will find many cottages or

farmhouses

in the countryside.
How to travel in Denmark? Typical costs of going around Denmark
As of June 2020, 100 danish crowns, DKK, is around 15 US dollars, or 100 Chinese Yuan, or 1150 Indian rupees, or 14 euros or 1600 Japanese yens.  
Accommodation
You can book the hostel dorms. They are cheaper than hotels. The cost of the dorms begins at 200 DKK per night. You have to spend around 240 DKK for smaller dorms. Hotels in Denmark aren't cheap and you can expect to pay around 685 DKK per night or more for a hotel double room. Hotels outside major cities can be more affordable and they start around 450 DKK for a double room. One option to save money is opting for shared rooms. You can find a shared room on Airbnb for around 325 DKK.  While the cost for an entire apartment or home will be around 900 DKK per night.
As suggested above the prices will be lower in the countryside. If you're not on a high budget, you can also go for campsites. The cost of campsites can be between 55 – 95 DKK per night. But, to stay at any campsite you will need the Camping Key Europe card. You can buy it in any campsite, this card will cost you around 110 DKK. In case you want to camp only for one night, you can get a transit card, for 35 DKK. I can suggest Danhostel in Aarhus, Generator in Copenhagen. 
The average cost of food
In Denmark, not only hotels but also food can be pretty expensive. So, for lunch in a restaurant, you can expect a bill of around 75 – 115 DKK even for the cheap meal. During dinner time the meals will cost you around 135 – 205 DKK. But if you want to avoid large expenses then eat a meal or sandwich from a van vendor which will cost you around 25-35 DKK. Other affordable ideas for eating out are Danish sandwiches, kebabs, falafel or pizzas. The average cost for groceries will be around 320 DKK per week. You can buy cheap groceries from Netto and Lidl stores.
Transportation costs
In order to avoid the higher cost, make sure you book tickets in advance, even if it can be difficult to plan in advance. This will save money and make a huge difference! As the prices will probably be higher as soon as you come closer to your travel date. As you can find on NomadicMatt travelling by train across Denmark, Jutland to Copenhagen costs around 550 DKK. However, the Buses are comparatively cheaper and start around 308 DKK. The train from the airport to the Copenhagen centre is 40 DKK. Local trains and buses are 24 DKK for a two central -zone ticket. It is very easy to find budget flights to and from Denmark as the airport is one of the major hubs in Scandinavia. The connectivity of buses and trains to every nearby country is very good. Hence, it is very easy to get in and out of Denmark.
Most Important: Some Money Saver Tips
Go orange:

The Danish rail system offers cheap tickets via their online website called "Orange tickets." They are only available online, and you can

use the

ticket on your phone. These tickets are a third of the cost of what you can buy at the railway station.

Refill your water bottle

:

water in Denmark is safe to drink and is held to very high standards. Skip buying bottled water here and refill your bottle. You'll save money and help the environment at the same time.

Eat on the street

:

Street stalls with all kinds of food cost only 27-35 DKK. Hence you can save a lot of money on food if you choose not to cook. In fact, they are your best bet at saving money on food outside of kebabs and pizza.

Share a ride into Denmark

:

Save money by sharing rides or hitchhike. You can use ride-sharing websites like

Blablacar

. These websites operate all around Europe and are a great way to find a ride into Denmark. While they don't operate in the country yet you will likely be able to find rides from many nearby countries.

Book in advance

:

Booking train and bus tickets a month in advance can save you up to 50%. The major operators are DSB and Abildskou.
Costs of Flights to Denmark From Different Places
A Flight From Copenhagen to London, United Kingdom

is around:

120 – 200 Danish crowns

and it lasts approximately for 2 hours.

Copenhagen to New Delhi, India is around:

1900-5000 Danish crowns it takes approximately 12 hours.

Flight From Copenhagen to New York, U.S.A. is around:

2200-5000 Danish crowns and it last approximately for 14 hours. 

A Copenhagen to Paris, France is around:

500-1000 Danish Krone Danish crowns and it last approximately for 2 hours.

Flight Copenhagen to Tokyo, Japan is around:

2800-4800 Danish Krone Danish crowns and it last approximately for 15 hours. 

A Flight From Copenhagen to Shanghai,  China is around: 3999-14999

Danish crowns and it last approximately for 15 hours. 
How much does it cost to travel to Denmark?
How much money will you need for your trip to Denmark? You should plan to spend around kr1,201 ($197) per day on your vacation in Denmark, which is the average daily price based on the expenses of other visitors. Past travelers have spent, on average, kr340 ($56) on meals for one day and kr422 ($69) on local transportation. Also, the average hotel price in Denmark for a couple is kr995 ($163). So, a trip to Denmark for two people for one week costs on average kr16,816 ($2,751). All of these average travel prices have been collected from other travelers to help you plan your own travel budget.
A vacation to Denmark for one week usually costs around kr8,408 for one person. So, a trip to Denmark for two people costs around kr16,816 for one week. A trip for two weeks for two people costs kr33,633 in Denmark. If you're traveling as a family of three or four people, the price person often goes down because kid's tickets are cheaper and hotel rooms can be shared. If you travel slower over a longer period of time then your daily budget will also go down. Two people traveling together for one month in Denmark can often have a lower daily budget per person than one person traveling alone for one week.
How expensive is Denmark? How much money do I need for Denmark?
How much does a trip to Denmark cost? Is Denmark expensive? The average Denmark trip cost is broken down by category here. All of these Denmark prices are calculated from the budgets of real travelers.
Accommodation Budget in Denmark
Average Daily Costs
Calculated from travelers like you
The average price for one person for accommodation in Denmark is kr498. For two people sharing a typical double-occupancy hotel room, the average price for a hotel room in Denmark is kr995.
Food Budget in Denmark
Average Daily Costs
Calculated from travelers like you
While meal prices in Denmark can vary, the average cost of food in Denmark is kr340 per day. Based on the spending habits of previous travelers, when dining out an average meal in Denmark should cost around kr136 per person. Breakfast prices are usually a little cheaper than lunch or dinner. The price of food in sit-down restaurants in Denmark is often higher than fast food prices or street food prices.
What did other people spend on Food?
Typical prices for Food in Denmark are listed below. These actual costs are from real travelers and can give you an idea of the Food prices in Denmark, but your costs will vary based on your travel style.
Transportation Budget in Denmark
Average Daily Costs
Calculated from travelers like you
The cost of a taxi ride in Denmark is significantly more than public transportation. On average, past travelers have spent kr422 per person, per day, on local transportation in Denmark.
What did other people spend on Transportation?
Typical prices for Transportation in Denmark are listed below. These actual costs are from real travelers and can give you an idea of the Transportation prices in Denmark, but your costs will vary based on your travel style.
Intercity Transportation Budget in Denmark
Average Daily Costs
Calculated from travelers like you
Transportation between cities and towns in Denmark costs an average of kr261. Naturally, prices vary by the length of the route, the type of transportation used, and the date.
Denmark On a Budget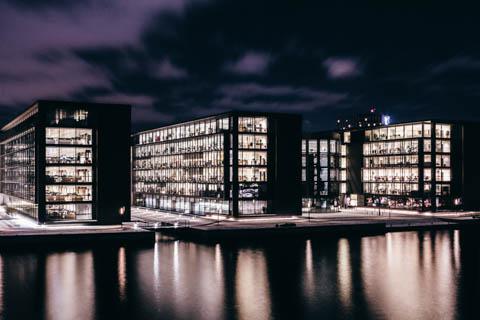 Many people visit Denmark with plans of seeing the Little Mermaid statue, Legoland, or just to enjoy the beautiful landscapes and interact with the friendly Natives. This Scandinavian country is north of Germany and south of Norway and Sweden. The mainland of Denmark, also known as Jutland, is attached to Germany; however, there are also a number of Danish islands. The two major islands are Zealand, home to Copenhagen (the capital), and Funen. These islands sit upon the ostersoen Sea.
While Denmark is part of the European Union, it has opted out of the European monetary system, maintaining its own currency, the krone. Denmark is also part of the Schengen Area, making it less of a hassle to cross its borders from within other countries that are part of this area.
Denmark is a socially, economically and politically progressive country. The country ranks highly with regard to health care, education, democratic governance, human development, and income equality. Not to mention, it is one of the least corrupt countries in the world. On top of all this, Denmark is rich in culture, natural beauty, and stunning architecture.
Danes are very proud people in a low-key way and seem to all portray their concept of "Hygge", which loosely translates to 'cozy'. This concept is unique to the Danish language so explaining the true meaning to an English-speaker can be troublesome. Another key ingredient to Danish culture is modesty; this trait can be seen in regard to behavior as well as in the Danes famous minimalistic design.
The five main regions of Denmark are Jutland, which is the European mainland, Funen and smaller surrounding islands, Zealand, Lolland-Falster, and Bornholm. About 40% of the countries population resides on the island of Zealand. In the Jutland region, you can find historical towns as well as the birthplace of the popular children's toy, Lego's. In the region of Funen and its surrounding islands, you can visit the home of world-renowned author, H. C. Andersen. Zealand is home to the country's capital, Copenhagen, as well as the Vikings' Roskilde. Who doesn't want to see some Viking memorabilia while traveling in Denmark? For the traveler looking to get into nature and explore the great outdoors of Denmark, you will want to visit the Lolland-Falster region. Bornholm is much more east compared to the other regions and known as the vacation island.
Top Tourist Attractions
Tivoli Gardens – The inspiration behind some of the most world-famous Disney theme parks. This recreation space has been around since 1843 and has been featured in multiple movies. Tivoli is a symbol of Denmark's capital, Copenhagen.
Hans Christian Andersen Museum – This author's stories and tales are a crucial piece of the Danish puzzle as a whole. People know his fairy tales across the globe including The Little Mermaid, The Ugly Duckling, and Thumbelina. See displays of the writer's life including his own sketches and art dating back to 1908.
Legoland – The original Legoland is located in Billund, which is in the Jutland region. This park opened back in 1968 and neighbors with the original Lego factory. This is the perfect attraction if you are traveling with children.
The Little Mermaid – This statue depicts a mermaid based on the fairy tale written by Hans Christian Andersen. This sculpture is a major tourist attraction in Copenhagen and symbolizes the city. Think of how the Statue of Liberty symbolizes New York City or how Christ the Redeemer symbolizes Rio de Janeiro.
Popular Foods
Danish cuisine is known to be fresh and is prepared with local ingredients. Open-faced sandwiches are very popular among the Danes for breakfast or lunch and meat and seafood are common dinner items.
Smorrebrod – the English translation of this word is "bread and butter". This is the name of the popular open-faced sandwiches that are popular throughout the country. Usually, this consists of a piece of rye bread with a piece of meat, cheese, and various vegetables.
Polsevogn – this is the name of the popular hot dog stand that you can find in Copenhagen. You can either get a riset hotdog, which comes on a bun with pickles, crispy onions, and classic condiments like ketchup and mustard. These resemble American hot dogs however they are much longer. You can also order a franskdog, which is a baguette that is hollowed out stuffed with a hotdog and sweet mayo.
Frikadeller – Danish meatballs made of ground beef and pan-fried. While these can be found in many other countries, it has been said that the Danes can do it best. The meat is mixed with onions, eggs, milk, and breadcrumbs and seasoned with salt and pepper. Many restaurants and food stands serve this specialty.
---
The above cover image was taken at Nyhavn in Copenhagen, Denmark. Photo by Nick Karvounis on Unsplash