Whenever we think of Pakistan, all that comes to our mind is terrorism, extremism, sectarianism, corruption, load shedding, and inflation but despite all these issues, we immensely love our country.
Amidst all the chaos we have forgotten the beauty of our landscape.
Pakistan is full of breathtaking locations which will make you fall in love with this country all over again. If you are a tourist or love traveling then you must compile a list of places you plan to visit next year.
1. Naltar valley
Naltar is famous for its colorful lakes, it is situated at a drive of 2.5 hours from Gilgit. World's tastiest potatoes are cultivated here. Covered with pine trees, this valley doesn't seem to be a part of this world.
If you really want to experience paradise in this world, you should visit Naltar at least once. This place will make you fall in love with it.
2. Neelum Valley
Opposite to the Keran sector of Indian-held Kashmir. From the Chella Bandi Bridge – just north of Azaad Kashmir's capital Muzaffarabad – to Tau Butt, a valley stretches out for 240 kilometers; it is known as the Neelum Valley (literally, the Blue Gem Valley).
Neelum is one of the most beautiful valleys of Azaad Kashmir, and it hosts several brooks, freshwater streams, forests, lush green mountains, and a river. Here, you see cataracts falling down the mountains; their milky-white waters flowing over the roads and splashing against the rocks, before commingling with the muddy waters of River Neelum.
3. Shangrila resort, Skardu
In the extreme north of Pakistan, Skardu the central valley of Gilgit-Baltistan is an epitome of beauty, serenity, and wilderness.
After Jaglot on the Karakoram Highway, a narrow road turns towards Skardu. During the seven-hour journey, one is greeted with several streams, springs, and the hospitality of the local people.
After crossing the old wooden bridge built over the River Indus, one reaches Shangrila, a paradise on earth for tourists. It is a famous tourist spot in Skardu, which is about 25 minutes away by drive.
4. Gojal Valley
The Gojal Valley borders China and Afghanistan, with its border meeting the Chinese border at Khunjerab — 15,397 feet above sea level — and remains covered with snow all year long.
In the northwest, there is Chiporsun, whose border touches the Wakhan region of Afghanistan. Wakhan is about six square miles in area, after which it starts Tajikistan. The Karakoram Highway which connects Pakistan to China also passes through Gojal Valley and enters China at Khunjerab.
5. Deosai Plains
Deosai is located on the boundary of the Karakoram and the western Himalayas, and at no point, it is less than 4000 meters above sea level. It remains covered with snow for 8 months. The rest of the year, it hosts a range of beautiful flowers of all hues and colors, but not a single tree is found in this plateau spread over 3000 sq. km.
Sheosar lake is also part of this. This lake is one of the highest lakes in the world. The deep blue water, with snow-covered mountains in the backdrop, and greenery with wildflowers in the foreground offer such a view in summers, that one is left amused for the rest of his life.
Hunza Valley
If you live in Pakistan – or have read anything about the country – it's almost certain you've come across the name Hunza. Don't let the word 'valley' confuse you, though – Hunza is actually a massive district made up of numerous valleys and villages. One part of the ancient Silk Road, here are some of the most beautiful sights in Hunza:
Passu Cones
The Passu Cathedral is a natural work of art and one of the most recognisable scenes in Pakistan. Though staying overnight in Passu village is no longer allowed, the cones are visible from a ways away, starting from the village of Gulmit. The most iconic view of the Cathedral is from the Karakoram Highway, about an hour's drive from Gilgit City.
Attabad Lake
A lake that doesn't look real… Even when you're standing right in front of it. Attabad was born out of tragedy when a massive landslide occurred in 2010. The flow of the Hunza River was blocked, and the now-famous lake was created in its wake. Its bright-blue turquoise waters make the it one of the most beautiful places in Pakistan.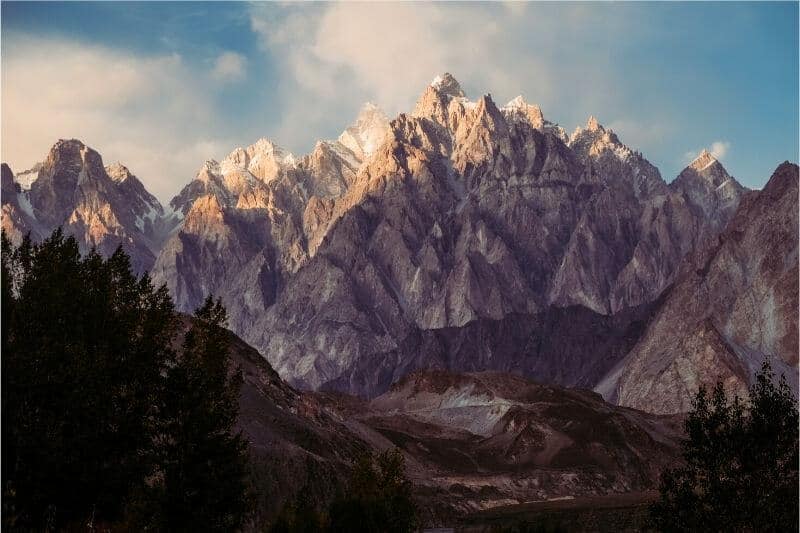 Eagle's Nest
Want to see one of the most epic sunsets in the Hunza Valley? Head to Eagle's Nest around golden hour! The name comes from an upscale hotel/restaurant nearby, but you can drive up to the viewpoint without going there.
Yarkhun Valley
Though it's relatively unheard of and forgotten compared to Pakistan's most famous tourist spots, I think Yarkhun Valley was the most beautiful place I visited in the country. Located in the Upper Chitral district of Khyber Pakhtunkhwa, Yarkhun dazzles with its mountain ranges and untouched villages.
Reaching the valley, which stretches for many kilometres past the administrative town of Mastuj, requires a bit of effort if you don't have your own vehicle. If you do have one though, the ride isn't too bad – just prepare for mostly dirt roads!
The side valley of Gazin is most definitely worth a detour if you make it all the way to Yarkhun. Here, you can see the mountains of the Thoi Pass, a high-altitude pass that connects Upper Chitral with Yasin Valley in Gilgit Baltistan.
 Phander Lake
Phander Lake, located in Phander Village, is almost too good to be true. The teal-coloured lake sits silently amongst light-green trees befitting a landscape painting.
Despite being insanely beautiful, Phander Lake doesn't see anywhere as close to the number of tourists as the more popular Attabad Lake does.
During the 4 days I spent in Phander relaxing lakeside, I didn't encounter any other tourists. If you do visit, I highly recommend you stay at the Lake Inn, which is a short walk away and charges 1,000 rupees per night.
There is also the expensive (5,000 rupees) PTDC that overlooks the lake, but the hospitality and value at Lake Inn reign superior.
Broghil Valley
Located way up north very close to Afghanistan's Wakhan Corridor, Broghil Valley was formerly only accessible via trek or horseback. These days, the once-hidden locale can be reached by a treacherous jeep track – yet it still only receives a handful of visitors during the few months it's not frozen under heaps of snow.
Currently, whether or not foreigners are allowed to visit Broghil is iffy. (If you're insistent, make sure you check with the Deputy Commissioner's Office in Chitral before making the trek up there.) But Pakistanis – please go see this beauty! The valley is home to numerous high-altitude lakes, yaks, and sprawling green pastures, all set against a dramatic mountainous backdrop that soars above 13,000 feet.
Moreover, a day's trek from Lashkargaz, the last village in Broghil, will lead you to Karambar Lake, one of the highest in the world!
Gorakh Hills
Hills in the desert… Yup, the Gorakh Hill Station is located in Sindh, but is certainly elevated as a part of the Kirthar Mountains. At 1,734 metres (5,689 feet), the top of the hills provide some of the most beautiful views in Southern Pakistan. This is the perfect spot for a weekend camping trip.
Gorakh Hills are about 8 hours from Karachi, but only 2 to 3 hours from the city of Dadu, making the latter a better place to start your journey. There is no public transport, but there are a few rest houses for anyone who isn't looking to pitch a tent.
Shah Jahan Mosque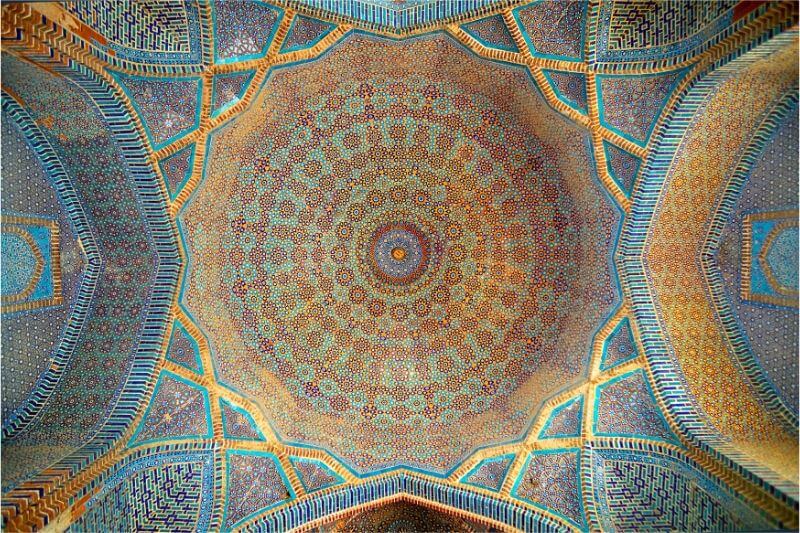 Thought all the Mughal relics were in Punjab? Think again! The Shah Jahan Mosque – also known as the Jamia Masjid – is located in Thatta, a town in Pakistan's Sindh province. It's widely known for having the most elaborate display of tile work in all of South Asia. Blue and sandstone colours adorn the interior of the mosque and are sure to wow all who visit.
The mosque was commissioned by Shah Jahan when he sought refuge in Thatta back in 1647 and somehow remains in amazing shape today. Though Sindh might seem to be a far cry from the mountains, the immaculate artistry present here makes it one of the most beautiful tourist places in Pakistan.
13. Fairy Meadows
Though it has become a bit touristy (and pricey), Fairy Meadows is no doubt a stunner. The meadows offer an incredible view of Nanga Prabat, the world's 9th highest mountain peak.
Reaching Fairy Meadows is a bit of a challenge. The journey starts with a jeep ride across one of the most dangerous roads in the world and culminates with a 5 kilometre trek. It's possible to rent a campsite, or you can bring your own equipment to enjoy a night or two basking in one of Pakistan's most epic views.
Currently, the price for a jeep into the meadows is around 8,000 rupees ($51), and walking the road is prohibited. Lucky it's possible to split the cost with other travellers.
Source: /www.dawn.com