Rocky Mountain National Park is an American national park in north-central Colorado. The park is situated between the towns of Estes Park and westward between Grand Lake. Rocky Mountain National Park is home to many wildlife species. Park includes almost seventy mammals and almost three hundred bird species. However, the park has removed several animals including wolverine, bear, and American bison.
What to do in Rocky Mountain national park?
Discover Trail Ridge Road along with more than 300 miles (ca. 483 km) of hiking trails, wildflowers, birds, starry nights, and fun times. Let's explore this superlative Rocky Mountain National Park.
These are some places to visit at Rocky Mountain National Park.
1. BEAR LAKE LOOP
The flat nature trail that circles scenic Bear Lake is perfect for younger children. Lake provides the opportunity to see deer and spectacular views over Flattop Mountain.
Features of Lake: Fall Aspens, Scenic Lake Views
We recommend you to go hiking here in the morning only to avoid the crowd. And this should be accompanied by an interpretive guide Rocky Mountain Conservancy. While hiking you will likely notice lodgepole pines. But nowadays you will also find Beetle infestation that has affected Mountain region.
Mountain temperatures fluctuate with changing weather patterns, especially at the higher elevations. Thus, Hikers should always be prepared for a wide range of weather conditions. Dressing in layers is also best, and carrying rain gear in your backpack.
The basic kit for first aid–
Roll bandages
Triangular bandages
Sterile compresses
Adhesive tape
Sterile gauze pads
Antiseptic wipes. adventure-medical-kits
Essential things you should carry while hiking-
Water Filter / Water purification tablets
GPS, Binoculars
Cell phone
Gaiters
Bandana
Feminine products
Knee Support
For hiking checklist see here
2. Emerald Lake Trail
From the Bear Lake trailhead, you can access the Emerald Lake Trail. Located at the end of Bear Lake Road, about 9 miles (ca. 14 km) from the Highway 36 turnoff. This is popular for hiking and Access is free of cost with park admission. Hikers will pass alpine lakes including Nymph Lake and Dream Lakes. And also enjoy beautiful views of rocky peaks, including Hallett Peak, Glacier Gorge.
Visiting and hiking in this place is the one best enjoyable thing in Rocky National Mountain.
Google Reviews
Best Restaurants near Emerald lake
Cinnamon's Bakery, Rock Inn Mountain Tavern, Dunraven, SEASONED-An American Bistro, Kind Coffee,
Where to stay in Emerald lake-
3. Trail Ridge Road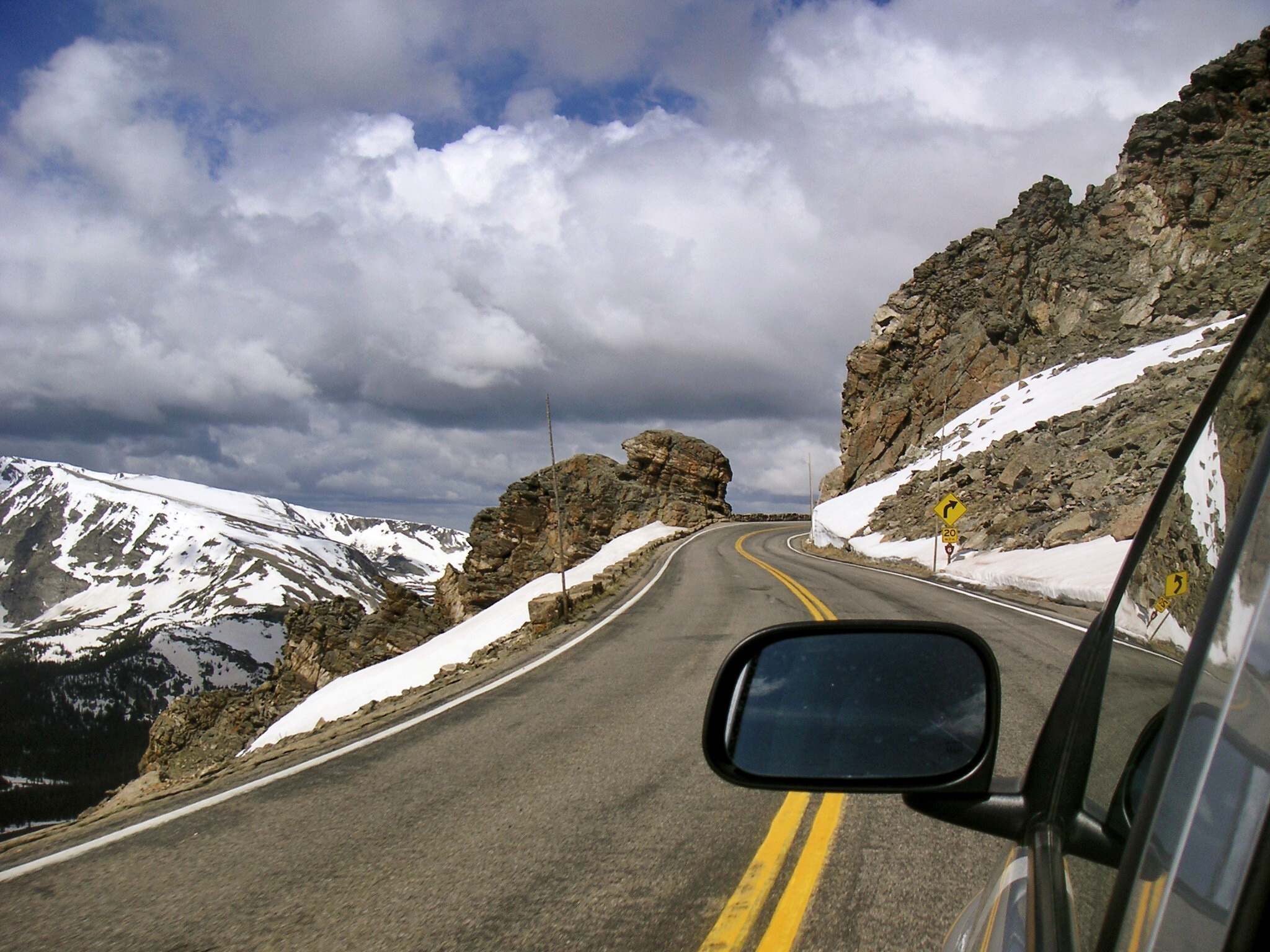 Trail Ridge Road is one of ten Colorado America's Byways designated All American Road. The Road is Colorado 's highest paved road that crosses the continental divide. It is open from late May until mid-October; and buried under snow for the rest of the year.
This is one of the best things you should do while visiting Rocky Mountain National Park. You will also get a chance to saw marmots and moose here. For more information visit their website.
The Best Restaurants near Trail Ridge Road
O – A Bistro, Sagebrush BBQ & Grill, Sloopy's Grill, Daven Haven Lodge, Squeaky B's, The Historic Rapids Lodge and Restaurant
Where to stay?
4. COYOTE VALLEY
This simple, one-mile trail runs along the banks of the Upper Colorado River. Here thousands of colorful wildflowers bloom in the summer. However, moose are often spotted in the morning and early evening
The Valley offers the opportunity for hikers to explore the beautiful Kawuneeche Valley. Also, it is a beautiful spot for a variety of wildlife. The trail is also wheelchair-accessible trails in Rocky Mountain National Park. The Kawuneeche Valley was also used as a summer hunting ground by the Ute and Arapaho Indians. Kawuneeche is a Native American name. In the Arapaho Indian language, it means "coyote valley". The trail provides tourists many stops to relax and enjoy the sweeping views of the valley.
5. Beaver Meadows Visitor Center
This Visitor Center also called the National Park Building for Rocky Mountain. It is the main visitor center in central northern Colorado. You can also see the short Park Orientation Film here and browse gifts for your friends. During summer, Beaver's center opens daily from 8 am to 5 pm.
And during winter 9 am to 4:30 pm.  It may be closed on Christmas Day. Visit official site.
The best nearby restaurants 
Things to do
HORSEBACK RIDING
After its founding in 1915, horses have been a part of the history of Rocky Mountain Park.
Discover the old-fashioned way of the high country-on a horse. It is a perfect way to see more alpine country than possible on foot for the older ones. Approximately 260 miles (ca. 418 km) of trails are available for horse use, making up over 70 percent of the park 's total trail network. Also, download Horses Brochure. In the park, there are stables:
FISHING
Fishing was a popular pastime for early park tourists, and it remains so today. For current Colorado, fishing license fees visit the Colorado Division of Wildlife website. But, a fishing license is required for all persons above16 years of age to fish in Rocky Mountain National Park. Also, Download the Map of the best fishing spots in Rocky Mountain National Park.
Fishing areas-
Transportation Service in Rocky Mountain National Park
Rocky Mountain National Park is the perfect place to get around by your own vehicle. Using your own wheels gives you the full flexibility to go and come as you want. Still, a free shuttle to the park is also a viable choice.
Car
You'll need a car to reach the shuttle parking lots even if you're visiting in the summer. Plus, you'll need a car from October to early May when the shuttle isn't running. But be cautious because this Colorado area is susceptible to heavy snowfalls.
Take a free park map when you enter the park or stop at any visitor center to ask for directions. GPS apps do not always give precise directions inside the park. print or download maps of the park
| | | |
| --- | --- | --- |
| Driving Directions   | Distance:  | Time  |
| From Denver via Boulder/Hwy 36 (East)   | 66 mi (ca. 106 km)  | 1.5–2 hours  |
| From Denver via Hwy 66  | 71 mi (ca. 114 km)   | 1.5–2 hours  |
| From Kremmling / Hwy 40  | 42 mi (ca. 68 km)   | 1–1.5 hours  |
Driving directions
Train Service
Rocky Mountain National Park, Grand Lake, or Estes Park do not have direct Amtrak service. You can get close to the park, however, and then opt for other transportation to complete your ride. Also, visit site.
Public Transportation
There is no public transport from the Denver city to either the east or west park sides. However, Estes Park provides free summer public transit to Rocky's shuttle network.
Shuttle Bus
National Park Service encourages tourists to rely on the park's free shuttles. These shuttles run from about 7 a.m. from May to October. The free shuttle service of the park is a convenient way to see the sites and avoid parking hassles. It is the only way to get to certain trailheads. Three NPS shuttle routes exist Hiker Express, Bear Lake and Moraine Park.
View Routes and schedule of shuttles
But, no shuttle bus services are available on the park's west side or across the Trail Ridge Highway. The Estes area provides many commercial shuttle tours. For updates please contact the Estes Park Visitor Center.
Plane
Denver International Airport (DEN) is the airport with the greatest proximity. There is no public transportation to the park from the airport. Commercial shuttle service to Estes Park is provided from the airport.
Tickets & tours
Safety and precautions
Symptoms include headache, nausea, fatigue, dizziness, vomiting, and even unconsciousness.
Altitude can also aggravate pre-existing conditions like heart and lung disease.
The only cure for altitude sickness is to go down to a lower altitude.
Falling trees pose an ever-present threat while moving in the forest or camping.
Be mindful of your surroundings, because trees can fall without warning.
Be especially cautious when it's windy or when branches are coated in the snow after a snowstorm.
Avoid car park or camping in areas where trees may fall.
All four seasons at Rocky can occur in a single day. Be careful about this.
Holding a few extra pieces of clothing will make you feel more relaxed and healthy.
Hypothermia can occur at any time of year.
Watch for sleepiness, judgment impaired, much shivering, and slurred voice.
Lightning regularly strikes in Rocky.
No outdoor place is safe when lightning strikes.
Take your time, drink water, eat, rest, and then travel.